DISSOLUTION OF MARRIAGE

A "divorce" in Florida is referred to as a "dissolution of marriage". Florida is one of the many states that has abolished fault as a ground for divorce and only requires that the marriage be "irretrievably broken". All that has to be proved is that a marriage exists, one party has been a Florida resident for at least six months prior to the petition being filed, and that the marriage is irretrievably broken. (There is also another rarely used ground: incompetency of one's spouse). Fault, however, may be considered under certain circumstances in the award of alimony and determination of custody issues, but even though fault is not an issue, the division of property and possessions and responsibility for support may become contested matters.
Uncontested:
The distribution of property in a divorce in Florida is covered by Chapter 61 of the Florida Statutes. Rather than a community property state, such as California, Florida has adopted what is known as Equitable Distribution. Under the Equitable Distribution scheme, marital property is fairly divided between the parties, which usually means negotiation and compromise by both parties. Some couples agree on property settlements, child custody, and other post-divorce arrangements before or soon after the original petition for dissolution of marriage is filed. They then enter into a "Marital Settlement Agreement", which is signed by both parties, that is presented to the court. In such an uncontested case, a divorce can become final in a matter of a few weeks.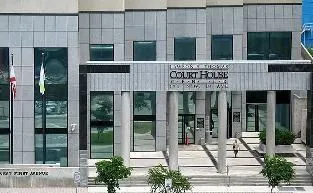 Lawson E. Thomas Courthouse Center. Miami-Dade County, Florida

Contested:
Other couples disagree on some issues, work out their differences, and appear for a final hearing with a suggested settlement which is accepted by the judge. On the other hand, some couples cannot agree on much of anything and a trial with each side presenting its case is required. The judge makes the final decision on contested issues.
Parenting Plans:
Florida law requires parents of minor children to prepare a parenting plan, which will include a general outline of the overnights and time-sharing the children will spend with each parent, including holidays, summer recess from school, and other special occasions. The parenting plan will also outline the parental responsibilities of each parent. Depending on the various aspects in the case, the parenting plan may also detail decision making authority and other issues. The parenting plan will account for which parent's address is the appropriate one to determine school enrollment, as well as resolve issues relating to the children's involvement in extracurricular activities and other non-school related activities. The parenting plan will also provide jurisdictional information to comply with the requirements of the Uniform Child Custody Jurisdiction and Enforcement Act and the Hague Convention. Although not statutorily required, the plan may also include parameters for information sharing, time sharing exchanges, transportation, and even resolution of future parenting disputes.
Child Support: Under Florida law, each of the parents has the obligation to support the child(ren). If the arrangement or parenting agreement of the parties is such that one parent has primary custody of the child(ren) and the other (non residential parent) has the child(ren) for less than 20% of the time, the child support would be determined by the Court using the Florida Child Support Guidelines ("Guidelines"), which is based upon the income shares of each of the parents. However, if the arrangement or parenting plan is such that both of the parents have the child(ren) for more than 20% of the time, then the Court would determine the obligation for child support under the Guidelines based upon the Gross-up method, which accounts for the fact that each of the parents is spending more money maintaining a separate household for the child(ren).
---
Marriage contracts
traditionally have been divided into two categories: prenuptial agreements (those entered into in contemplation of marriage) and postnuptial agreements (those entered into after marriage, usually in contemplation of a separation or dissolution of marriage). In cases where postnuptial agreements are drawn which are not necessarily in contemplation of a separation or dissolution of marriage, such agreements are often referred to as midnuptial agreements (since they are drawn after marriage, but are treated as an afterthought type of a prenuptial agreement). All such agreements should facilitate contracting and the free expression of the judgment and will of the parties.
---
ALIMONY
Alimony in Florida is discretionary with the Court, including the actual entitlement to it, as well as the duration and the amounts of the payments. There are various types of alimony including temporary alimony, bridge the gap alimony, rehabilitative alimony, durational alimony , and permanent alimony . The Judge makes the determination regarding whether alimony is required based upon what is fair under the circumstances, but in determining entitlement to alimony, there are general rules that apply. As as example, permanent alimony is more commonly awarded after a long-term marriage , which is defined under Florida Statutes as 17 years or longer. While a judge could order it with a marriage of only seven to 10 years, a compelling reason to do so would have to exist. Short-term marriages are those of less than seven years -- and permanent alimony is only ordered in those cases when there are extraordinary circumstances.

Permanent alimony

is more commonly awarded after a long-term marriage, which Florida statutes define as 17 years or longer. A judge can order it after a marriage of seven to 10 years if a compelling reason exists. Short-term marriages are those of less than seven years -- and permanent alimony is only ordered in these situations under extraordinary circumstances.


Read more :
http://www.ehow.com/how_231136.

.

.
---
If you are contemplating a divorce and/or you have need for legal assistance with a family matter:

We Can Help . Call Us Today!